Learn how to make allspice seasoning in 5 minutes. Use this mix in case you don't have time to grow a tree, harvest, roast and grind your own berries, or run to the store!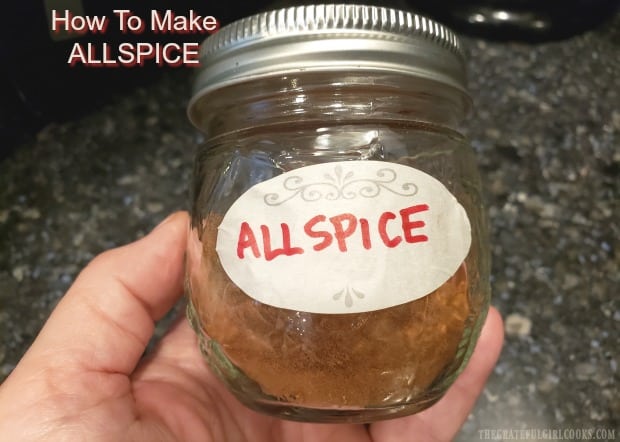 I love to find ways to make my own spices to keep in our pantry. Sometimes a recipe calls for a tiny bit of a spice I don't have handy, which means a trip to the store to shell out some bucks for a whole jar! Recently I found a homemade spice recipe I want to share, that shows you how to make allspice in under 5 minutes, if you need a quick substitute!
Did You Know This About Allspice?
There is a plant common is certain areas of the world called the pimenta dioica. Allspice comes from the berries this plant produces. Whole allspice berries are actually dried, unripe fruit that have been harvested from this plant. When the dried berries are finely pulverized, the result is ground allspice.
Back in the early 1600's, the crushed, ground up berries were given the name of "allspice" by the English. Apparently they thought the flavor of these dried, unripened berries was VERY similar to that of 3 spices combined: cinnamon, cloves and nutmeg! They used "allspice" to flavor their various meats and desserts. (Source: Wikipedia)
Below is a photo I took of some whole (dried) allspice berries from my pantry, to show you what they look like.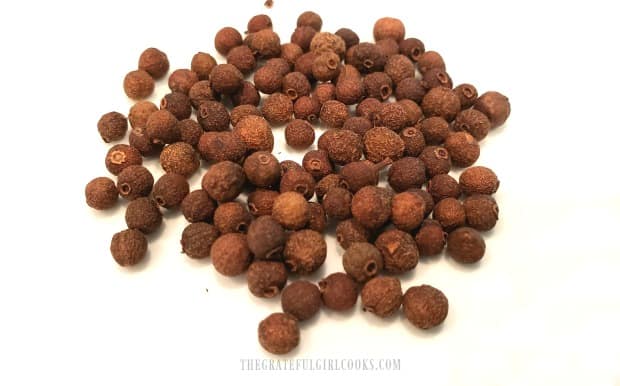 How To Make Allspice
TRUTH FACT: MOST of us don't have the time or the ability to grow a pimenta dioica plant, harvest and roast the unripe berries, and then grind them, all while making a recipe. This "quick fix" will provide the same flavor, should you need allspice to use! Knowing how to make allspice (quickly) will also save you a trip to the store to buy it!
The three ingredients necessary to make this allspice substitute are… you guessed it! Cloves, cinnamon and nutmeg (all ground). Make this mix in a pinch if you need allspice for a recipe, and all will be right with the world.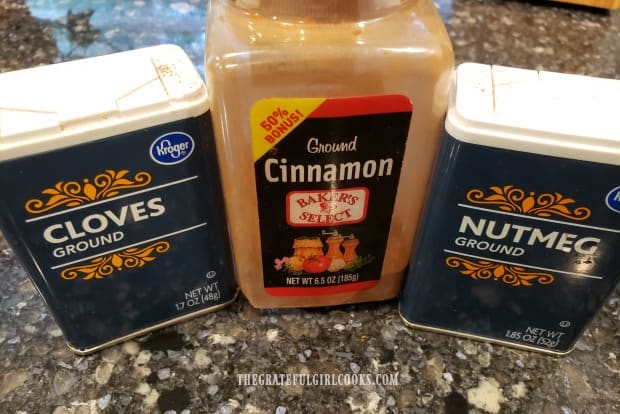 Measure out the spices into a small bowl. Stir the spices together and try to get rid of any lumps. That's it! you can use this allspice mix as a quick substitute in recipes calling for ground allspice!
Storing Allspice
Store the seasoning in an airtight container once the ingredients are mixed. The recipe, as written below (in the printable recipe card) will yield about 1/2 cup of allspice (8 Tablespoons).
Fill and then label the container, and add it to the other spices in your pantry. It should hold its flavor up to about 6 months (maybe more)!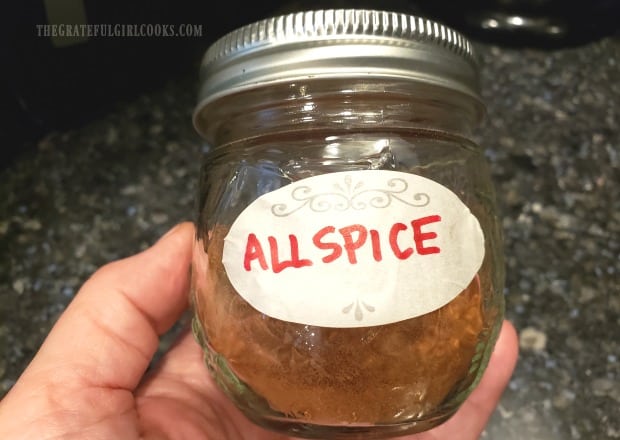 See the photo below? I've added my homemade allspice to some of the other spices in our pantry.
Looking For More Homemade Spice Mixes?
A few of the other homemade spice mixes I've blogged about include: jerk seasoning, dry rub mix (for chicken/pork), pumpkin pie spice mix, and cajun seasoning. I also make my own taco seasoning, and the Italian seasoning recipe (shown) will be coming soon!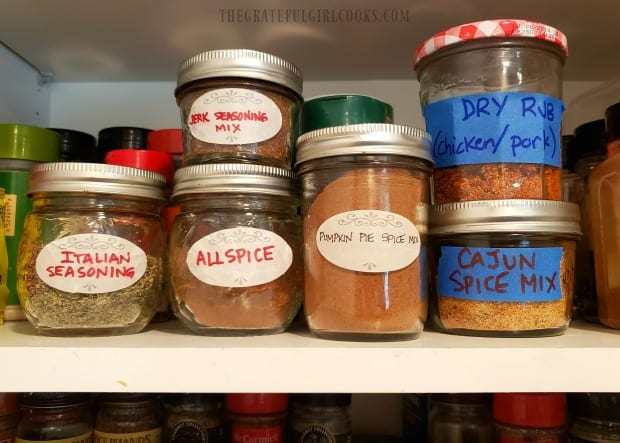 Sure hope you will give this seasoning mix a try! It's so easy to make, and very convenient to be able to make up a quick spice mix when needed for a recipe! Have a GREAT day!
Interested In More Recipes?
Thank you for visiting this website. I appreciate you using some of your valuable time to do so. If you're interested, I publish a newsletter 2 times per month (1st and 15th) with all the latest recipes, and other fun info. I would be honored to have you join our growing list of subscribers, so you never miss a great recipe!
There is a Newsletter subscription box on the top right side (or bottom) of each blog post, depending on the device you use, where you can easily submit your e-mail address (only) to be included in my mailing list.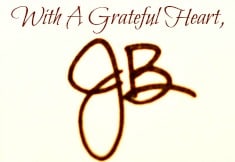 Original recipe source: https://www.onehundreddollarsamonth.com/easy-kitchen-tips-allspice-substitute-recipe/
How To Make Allspice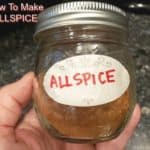 Learn how to make allspice seasoning in 5 minutes. Use this mix in case you don't have time to grow a tree, harvest, roast and grind your own berries!
4 teaspoons ground cinnamon
2 teaspoons ground nutmeg
2 teaspoons ground cloves
Measure out the cinnamon, nutmeg and cloves into a small bowl. Stir well, to combine, breaking down any lumps.

Pour allspice mixture into an airtight jar or container with a lid. Label container; store in pantry. Can use as a substitute in recipes that call for ground allspice. Should hold peak flavor for up to 6 months (or more).
Here's one more to add to your Pinterest boards!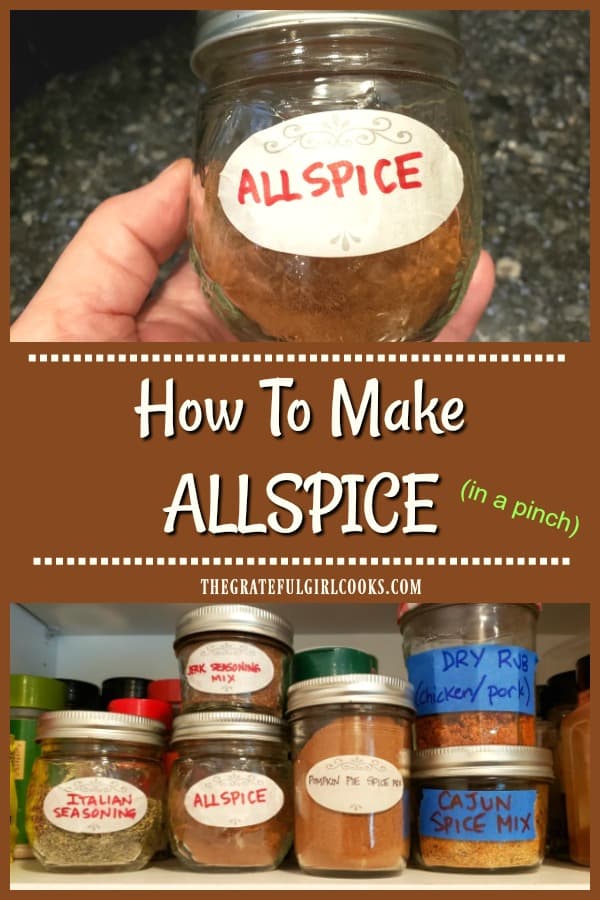 The post How To Make Allspice appeared first on The Grateful Girl Cooks!.